Welcome to Marching Season!
Directors: Please remember to send your event results to admin@midwestmarching.com as soon as possible at the end of your show. Most often, results are posted to the site within an hour or two of receiving them. You can also send your event results to our MWM Dropbox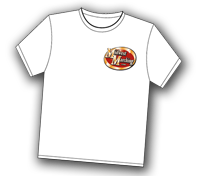 Fans: Email, Tweet or Instagram your best fan photos each week and we will again give away one or more Midwest Marching T-Shirts each week through November 1!
Tag #midwestmarching in your FB, Instagram or Twitter submission and be sure to Like and Follow!
T-Shirt Give-away Winners
Week 1 - No submissions :(
Week 2 - No submissions :(
Week 3 - Winners TBA!
Week 4 - Winners TBA!
Week 5 - Winners TBA!
Week 6 - Submit by Oct 15
Week 7 -
---
Week 8: October 20-26
Festivals with the ILMarching logo link directly to their page on ILMarching.com.

October 25

The Arkansas Open
Jonesboro, Arkansas
Downers Grove South Marching Mustang Music Bowl
Downers Grove, IL
Results
Francis Howell Invitational
St. Charles, Missouri
Results
Northwest Arkansas Invitational
Siloam Springs, Arkansas
Results
NSBA State Marching Competition
Omaha, Nebraska
Results
NSBA State Marching Festival
Omaha, Nebraska
Ratings
NSBA State Marching Festival
Kearney, Nebraska
Ratings
Pinckneyville "Mardi Gras" Field Show and Parade
Pinckneyville, Illinois
Results
Ste. Genevieve Marching Festival
Ste. Genevieve, Missouri
Results
UCM Festival of Champions
Warrensburg, Missouri
Results

October 29 (Wednesday)

Southern Plains Marching Festival
Andover, Kansas

November 1

Heart of America Marching Festival
Lawrence, Kansas
Results
---
© Midwest Marching 1996-2014 | Hosting provided by Productivity Solutions

---
PLEASE PATRONIZE OUR
MIDWEST MARCHING
BUSINESS SPONSORS!
---
PROUD TO SHARE EVENT INFORMATION WITH THE FOLLOWING CO-OP RESOURCES!