Pride of the Ozarks Marching Festival
Ozark, Missouri
09/24/2016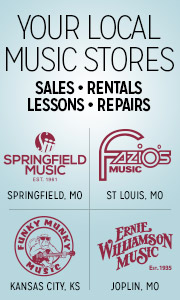 The 3rd annual Pride of the Ozarks Marching Festival will be held at Ozark High School in Ozark, MO. The Ozark High School Stadium seats 3000 spectators on the home side and 1500
on the student side. It is a turf field with a large press box for a great high angle recording of your band. The field has standard High School hashes and end zones.
Classification is based on the enrollment of ALL students in grades 10-12, These are the numbers used in determining funding at the state level for each school.
Class A 0-400
Class AA 401-600
Class AAA 601-1225
Class AAAA 1226 - up
Clinics are done for each band after a performance. Directors can choose to have the whole band attend the clinic or just have the director and staff attend. One of the clinicians will give a basic critique of the show along with showing a video of the performance. The clinician will talk with the students and the directors about various ways of improvement in anything from basic
execution to design elements and overall effectiveness of their show.
Finals bands will consist of the top 12 scores on the day regardless of class. Any class champion that does not score in the top 12 will have an exhibition performance in finals.
Registration Application will be available on Thursday, April 14.
ADMISSION PRICES
Spectator entry is $7 for adults and $5 for children age 6-12. Age 5 and under is free. Programs are available for $3 near the front gate.
ADJUDICATORS
2016 Judges
Jason Hausback Springfield MO
Tim Gray – Mount Pleasant IA
Bob Joneson – Omaha NE
Greg Hamilton – St. Louis MO
Brian Kackley – Jackson MS
Corey Francis- Nashville TN
Martin Dunlap – Blue Valley KS
Jarerd Brockmeyer- St. Louis MO
Michael Yoho – Pittsburg PA
Diane Koutsulis – Las Vegas NV
Michael Westbrook - Springdale AR
Tom Meyer Director Ozark Bands
Email hidden; Javascript is required.